About Our Puppies


See Video Below To See Them In Action!!

We take great pride in the quality of our Boxers. For this reason, each of our puppies are sold with the following:
- A 6 day money back guarantee & a 1 year Health Warranty.
- AKC Registration
- Health Checked by our Vet and you will receive a "Puppy Report Card" from them.
- Tails docked and dew claws removed.
- Are on a deworming schedule to prevent parasites that are common in puppies.
- Will have received their first shot.
- Each Buyer will receive a "puppy packet" to help prepare for new puppy's arrival, and how to care for the new puppy.
- A 5 lb bag of puppy food.
- A small blanket that smells like their mom and litter-mates to help comfort them in their new home.

We believe that by the time our puppies go to their new home they should have had plenty of Tea Parties, Playing House & Dress Up Sessions (thanks to our children and grandchildren), are familiar with outdoor life as well as indoors and are use to many different surfaces, sounds, animals, adventures, going potty outside and using a dog door.

Our litters of puppies come from AKC Champion Bloodlines and they are registrable with the AKC. Our puppies are sold as companions with a Spay/Neuter Contract that requires the procedure to be done by 8 months of age and breeding/show rights are NOT included, except on a rare occasion and must be arranged in advance.

We love to receive updates and pictures of our previous pups and we highly encourage everyone to stay in touch.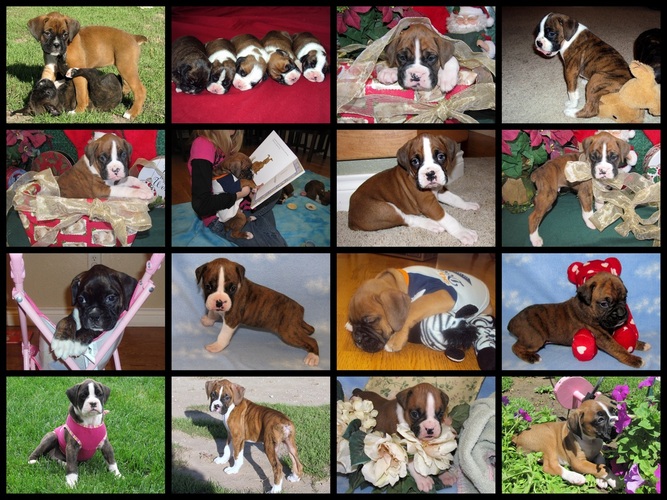 Copyright © Box Elder Creek Boxers. All Rights Reserved.