Meet Our Boxers


The Past and Present
While Boxers may not be our whole life, they certainly make our life whole!!

We fell in love with the Boxer Breed due to their beauty, temperament and intelligence. After having owned this magnificent breed we embraced our passion and now take a lot of pride in sharing this breed with others. Those that have owned a Boxer can not picture their life without one, and those that have not yet had the pleasure can look forward to their life being forever altered.
We have been blessed to share our lives with our Past & Present Boxers. Those that are now retired or are no longer with us have contributed in helping us become who we are today and their contributions will never be forgotten,
SEE THEM HERE
. Our present Boxers are a combination of beauty and brains and they never fail to amaze us with their devotion & loving natures. We hope you enjoy our beautiful Boxers and we look forward to helping you obtain a quality puppy you can be proud of.
Our past puppies have brought a lot of joy to us and their new families. We have enjoyed watching them grow up and mature into adults. Thank you to those that have made that possible by staying in touch and sending pictures.
Below you will find pictures of our current Sires and Dams, and we have provided a small biography of each.


Grimm - DNA Profile #V782543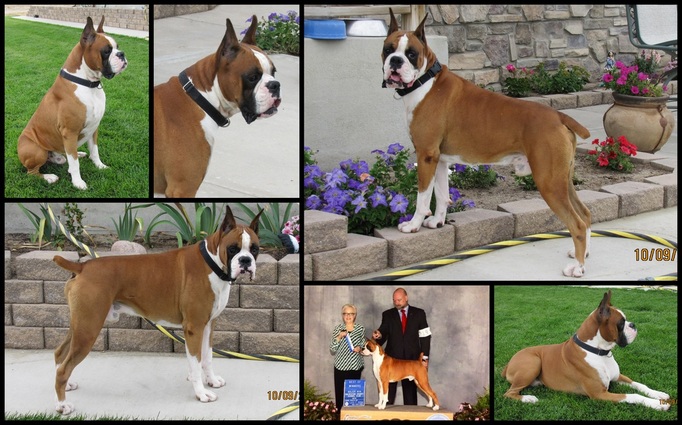 CH TOPLINE'S ALL JACK'D UP! - Our New Sire
"Grimm" is 70 lbs. He is a Flashy Fawn and received his AKC championship title when he was 10 months old. Grimm has a very impressive pedigree with 38 champions out of 65 in his 5 generation pedigree. He is extremely loving and loyal. He has a calm well mannered disposition and is a joy to be around. He is truly one of the best Boxers we have ever owned. He is intelligent, softhearted, loves to play in water, likes to act silly, loves children, adores puppies, and gets along great with other dogs. Grimm has a strong desire to please and is very family oriented! Did I mention he is truly WONDERFUL and stunningly HANDSOME!!!
Click to see more Pictures and Video!
---
TASHA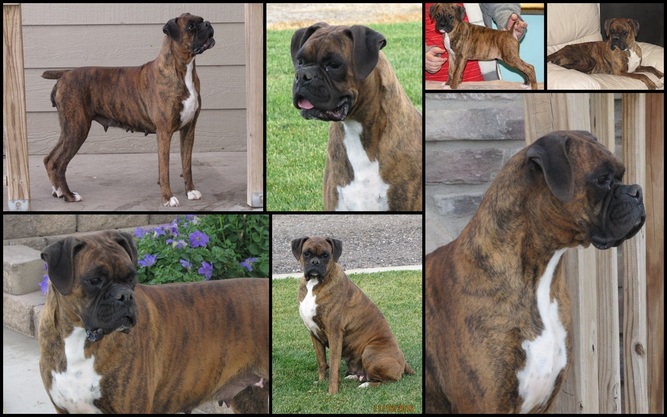 TENDER TEMPTATION - Our Dam
"Tasha" is 62 lbs. - She is a beautiful Classic Brindle. She has 33 Champions in her 5 generation pedigree. She has a playful, fun loving personality... yet always well behaved. She has a very calm disposition, but is always ready for any adventure that comes up. She has a strong desire to please and is praise orientated. We consider her quite a blessing as she is such a beauty and she is so sweet, smart, and gentle.
Click to see more pictures and video!

---

JULIA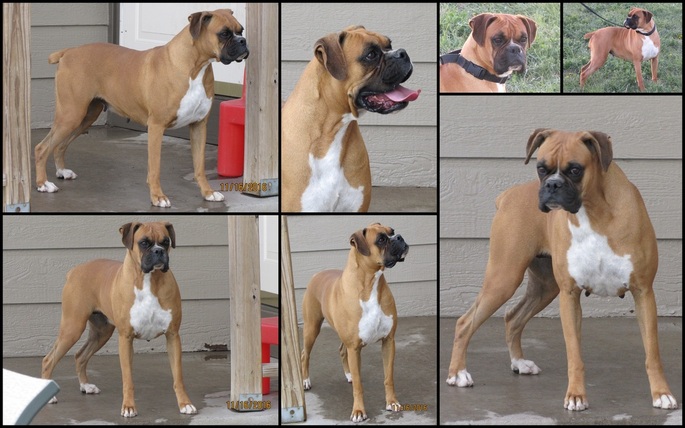 JULIA TWILIGHT OF DAWN - Dam

"Julia" is 50 lbs. - She is a beautiful Classic Fawn and her parents are "Cali" (Retired) and "Buck"( Retired). She is from great champion lines and has a smaller yet solid frame. She is a sweet, silly, and loving girl that just loves life and all it has to offer.
Julia is full of all the Boxer antics that make Boxers such wonderful companions!
Click to see more pictures and Video!
---

GINGER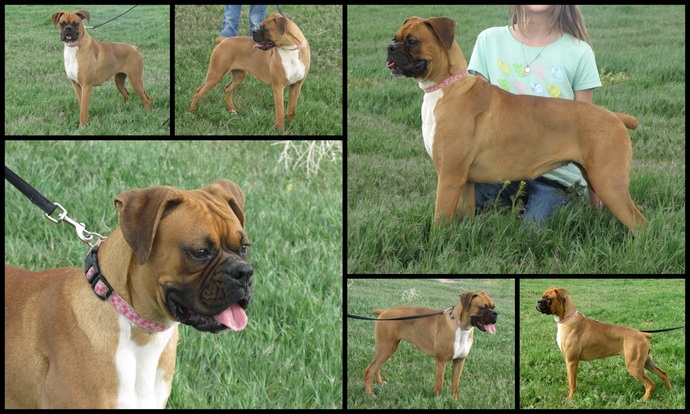 GINGER RODGERS II -
Dam
"Ginger" is 56 lbs. She is a beautiful Classic Fawn. Ginger is Champion Sired out of CH Donje's Need For Speed and has 28 Champions in her 5 generation pedigree. Her pedigree includes some of the best bloodlines in the US. She has a super sweet disposition, she is loyal, well behaved, gets along with other dogs well and is a great mother. She is calm yet very playful, and is always a joy!
Click to see more pictures!
---

ANGEL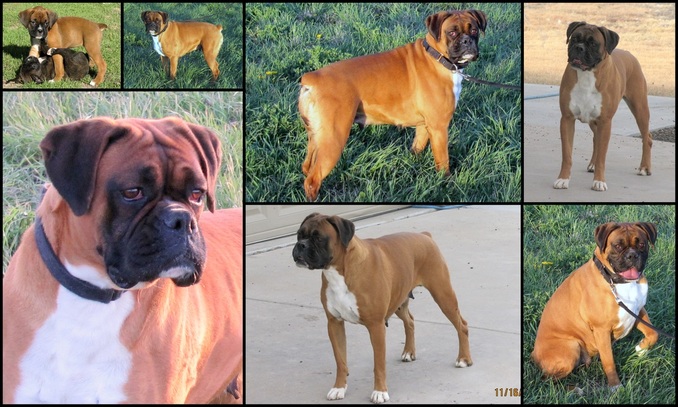 ANGELIC MYSTIC ENDEAVOR - Dam
"Angel" is 65 lbs. - She is a beautiful Classic Fawn and her parents are "Deja" (retired)
and "Buck" (retired) . She has a wonderful Champion pedigree and has a stocky solid square frame. She is sweet, calm, has a well-behaved personality that is always a delight to be around. She is very loving not only with us but also with her stuffed animals that she likes to carry around with her.

Click to see more pictures and video!
---

Amy's Boxers

Amy is our oldest daughter. She has two Boxers, Daizy and Ruby. She has fallen in love with the Boxer breed, right along with the rest of our family. She has three boys at home that help her take care of their four legged friends. The best way to reach Amy is via e-mail, at amy.copeland@live.com.


DAIZY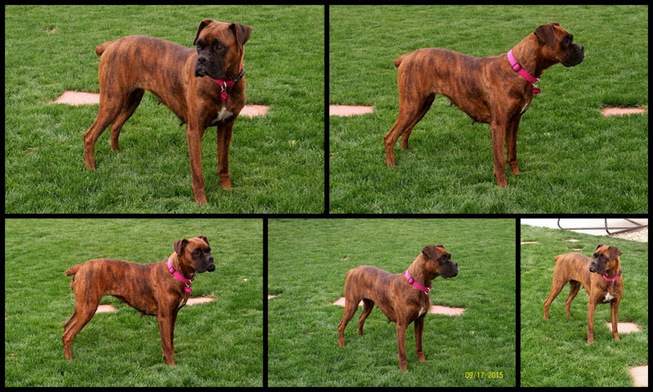 DAIZY MAE VI-
"Daizy" is 55 lbs. She is a beautiful classic brindle. Daizy is determined, a bit headstrong, and very loyal. She is curious and full of funny Boxer antics. At times, she reminds me of Chance, from Homeward Bound, though not nearly as naughty! She enjoys camping with the family- but prefers the beach to water activities. Other favorite activities include going for truck rides, playing with our other Boxer, and following our 3 sons around the house.

---

RUBY

Pictures and bio coming soon!

Copyright © 2006 Box Elder Creek Boxers. All Rights Reserved